rookery (noun) - A dense collection of housing, especially in a slum area.
- Oxford Dictionary
Welcome to the Rookery! The name isn't exactly what I was looking for, but it somehow amuses me, so it'll work. I started playing HeroQuest when I was a kid living in Portsmouth back in 1990 and played it constantly for years, spending countless hours painting, customizing my miniatures, and making up quests for my friends and I to enjoy. Living in the UK meant I had a real connection to that genre that I found somewhat missing when I moved to Canada, so I fell out of sync with that whole hobby for ages.
Flash forward many years and my brother snags a near mint copy in box and gives it to me for Christmas. Completely awestruck by the trip down memory lane I found myself diving headfirst back into High Adventure in a World of Magic... and then promptly doing what I'm sure many a return hobbyist does next: Raiding my parent's loft to see what I can find!
Here I'm going to try and chronicle my journey; showing off miniatures, furniture, quests, games... basically whatever suits my fancy. I'll also share what is inspiring me at the time, so hopefully it will spawn some discussion and help motivate us all into getting the most out of our hobby!
Current inspirations include:
RemyT's painted collection thread from years' past:
http://forum.yeoldeinn.com/viewtopic.php?f=56&t=1919
I know this is from years ago but I couldn't help but be completely captivated by it! Can't wait to try out some of those textures on my own furniture!
Apersand's stuff thread:
http://forum.yeoldeinn.com/viewtopic.php?f=56&t=1849
Simply fantastic stuff in here, and I'll likely be swiping many an idea gold mine from here. Going to be trying my hand at doing a throne like his shortly!
Brush Stroke on Facebook:
https://www.facebook.com/brush.stroke.77?fref=ts
His HeroQuest stuff is great, and I took my basing idea from his.
What am I working on now:
Currently I'm starting work on the heroes. It seems a logically place to start, and gives a great opportunity to see how much my painting has changed in the interim.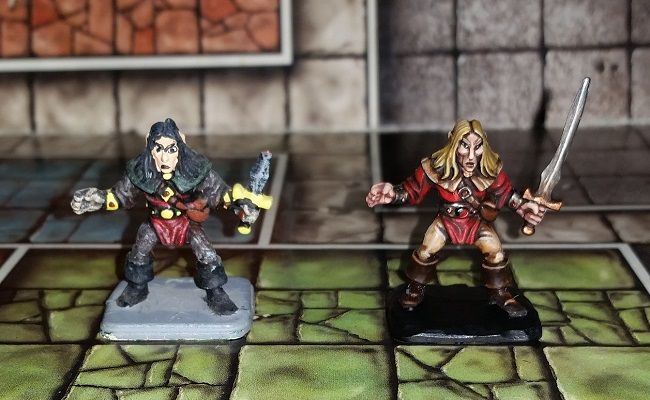 One on the left was done when I was a kid using a mixture of toll paints and whatever I could scrounge from my father's hobby work space when he wasn't looking. The one on the right still needs the base done and some highlights on a few spots (Hair and sword for example), but I'm happy with it thus far. I went for a paint scheme similar to the one shown on the character sheet, just decided to go with the blonde rather than the pure white (I tried it first and was getting more 'old man' vibe than 'mysterious elf').
And so it begins...