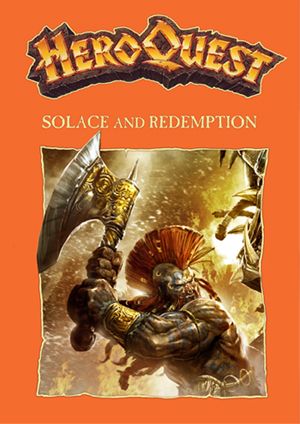 QUEST BOOK
A solo quest pack for my version of the Trollslayer.
| | | | | |
| --- | --- | --- | --- | --- |
| Movement | Attack Dice | Defense Dice | Body Points | Mind Points |
| 2d6 | 2 | 2 | 8 | 2 |
The Trollslayer may only use Axes and Hammers.
Before attacking the Trollslayer always goes berserk.
Quests
New Rules
Going Berserk

The Trollslayer has a new combat ability, going berserk. When going berserk the Trollslayer's attacks become much more deadly but, at the same time his defence becomes worse.

Every time the Trollslayer attacks, immediately before rolling the combat die they must take one Rage Token. They then modify their attack strength, rolling one additional combat die for each Rage Token they currently hold.

When defending the Trollslayer must modify their defence strength, rolling one less combat die for each Rage Token they currently hold.

The Trollslayer may never hold more rage tokens than their defence score i.e. when their defence reaches zero they do not take any additional Rage Tokens. However they must continue to modify their attack and defence rolls based on the number of Rage Tokens they currently hold.

Calming down again

At the beginning of each of the Trollslayer's turns, if there are no monsters visible, he removes one of the Rage Tokens he currently holds.
New Items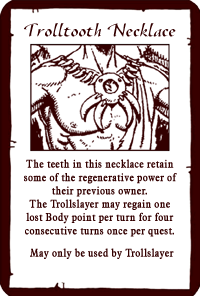 Monsters
NOTE: These quest have been written and playtested using the NA monster stats for BP
[
Additional components needed: 8 Coffin Tiles (from Return of the Witch Lord), Ice Cave Entrance Tile (from Frozen Horror), 2 Small and 2 large Stairway Tiles (from Keller's Keep), Stone Door (from Against the Ogre Horde), +1 Tomb, Trap Door Tile (from KK or RotWL), Surface Tile (from AtOH)
This Quest Pack is suitable for a Trollslayer with starting equipment.
-edit

]