So, as we did for the Warlock, here is the Druid topic to expose your doubts and discuss about this new character from the forthcoming new HeroQuest release.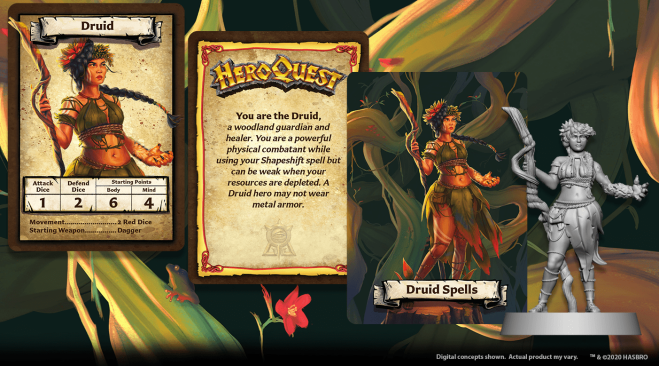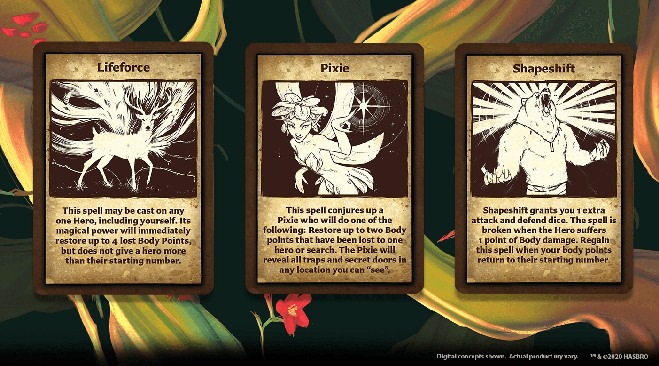 Nikki Dawes wrote:When I was asked to create the druid character, I knew I wanted to start with a succulent. They are hardy, drought-resistant plants, which I thought was a good fit for a strong and battle-ready character. I also wanted to keep a lot of rounded shapes in the overall design to contrast with other characters. I included this with the way her hair wraps around the succulent headpiece, the rounded forms of the braid itself, the curved lines of her body markings, and her soft body shape. I also wanted to keep her clothing simple and something that she could quickly move around in, so I actually based her simple leather top and bottoms on gym clothes (with some fancy leaf adornments).
"
You are the Druid, a woodland guardian and healer. You are a powerful physical combatant while using your Shapeshift spell but you can be weak when your resources are depleted. A Druid hero may not wear metal armor.
"
Doug Hopkins wrote:In popular culture, druids are known to cast nature spells, heal and defend their allies in the form of savage beasts. Nikki Dawes's art features a tiger-like arm and claws, which inspired me to endow this new hero with a shapeshifting spell. I want our Druid to be situationally comparable in power to the Barbarian, but at the cost of their action economy and resources. I'm continuing to explore the idea that there is a condition that would allow you to recover a spell – for example, Shapeshift for this hero – that you have already cast.

The Druid has comparable statistics to the Elf. They can use most weapons in the game but their armor is limited. They will rely of their own spells and the spells of their allies to keep them healthy.
The illustrations above are the game art for the Druid's three spells:

• Shapeshift
Shapeshift grants you 1 extra Attack and Defend dice. The spell is broken when the hero suffers 1 point of Body damage. Regain this spell when your Body Points return to their starting number.

• Pixie
This spell conjures up a Pixie who will do one of the following: Restore up to two Body points that have been lost to one hero or search. The Pixie will reveal all traps and secret doors in any location you can "see."

• Lifeforce
This spell may be cast on any one hero, including yourself. Its magical power will immediately restore up to 4 lost Body Points, but it does not give a hero more than their starting number.

The idea here is that the Druid can fulfil a melee protector role in their quest with the use of their Shapeshift spell. Hopefully they can regain this spell with a combination of spells, potions, and teamwork.
Custom UK version of the Druid spells: