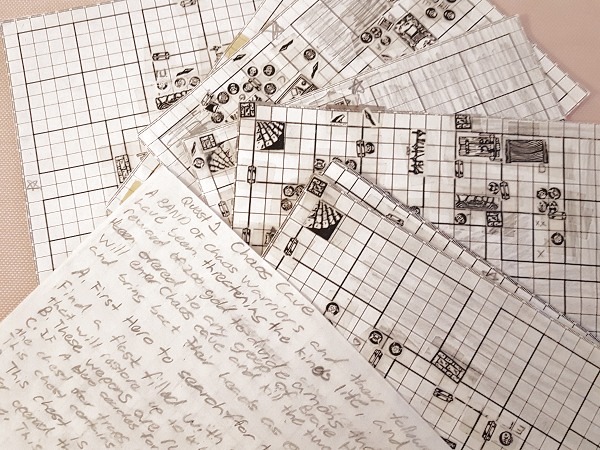 Edited title and introducing the Italian cover. At the moment this is ready only in iItalian language but will make an English version very soon.
Also you can see the cover for the sequel titled Amulet of the Underworld.
(artworks by Christopher Lue-Quee)
Hi all, I bought a small lot on ebay wich was full of HeroQuest stuff, also including some custom quests numbered from 1 to 9. Seems they only require a Game-System to be played.
The papers appear to be yellowish and dusty and the icons are attached with some old tape wich is losing his glue. I guess they are very old.
I am not going to store them forever, especially in this conditions but since we are always searching for new quests, I decided to post them, so if someone has some time to remake them, we can have a new questpack and also the work did by the unknown author will not be vanished and will last longer.
Other members that wish to contribute are welcome, especially for the text transcription. I am going to change a lot of things and then I will format it with a UK or US layout.
Below are the links to the pics showing original maps and notes wich I am going to rework (pratically I only saved the maps and the starting idea and re-worked almost everything).
Some icons from quest 8 were missing, I found them in the box separately but it was easy to understand their correct position looking at the blank spaces on the map.
I will change a lot and use them only as inspiration to create the new questpack.
Unless you wish to see the differences beetween my work and the original quests, you can ignore the links below and
skip directly to the second post
.
------------------------------------------------------------

Quest 1 - Chaos Cave: map - notes
Quest 2 - Lair of the Gargoyle: map - notes
Quest 3 - The Quest of Knowledge: map - notes
Quest 4 - Lair of the Orcs: map - notes
Quest 5 - The Quest for Sir Cane: map - notes
Quest 6 - Domain of the Beast: map - notes
Quest 7 - Lair of the Chaos Warlord: map - notes
Quest 8 - Orc's Maze: map - notes - bits missing from map
Quest 9 - (untitled/unfinished): map - notes