Good afternoon everyone.
I have been working on a project based on Phoenix's HeroQuest Master Instruction Book (he is already aware of this). This is basically being created for my own amusement, but it is something that will also be available for free as an eBook. I'm creating a stylized hardback book of the Master Instructions which will include extra's to make it a definitive collection. It will contain all of the rules from all expansions in one book, bestiaries, magic resource, armory, alchemist's shop, all official quests broken up by expansions and any side quests that may fit in between.
The problem is... right now I'm stuck. I'm working on the alchemist's shop and I'm unable to draw out the bottles of potions that were put in the expansions. This is where I'm looking for help. I've been trying to draw the potions from scratch, but they look way too cartoony. I tried to do some photo edits to make the bottles look like the official art, but I can't seem to make it look the way I would like it to. What I would like is for the potion to be sitting in what looks to be a recess in the wall of the shop with the potion sitting on the shelf. See lowres example below of the WIP of my too cartoony looking potions. I would like to see something closer to what the weapons look like on the cardboard Armory in HQ. So, if you have photoshop skills and would like to help by creating the 4 potions from each expansion (12 total - 2 out of the 12 look identical but I'd like to see different colors for the similar items) Frozen Horror, Keller's Keep, and Mage in the Mirror.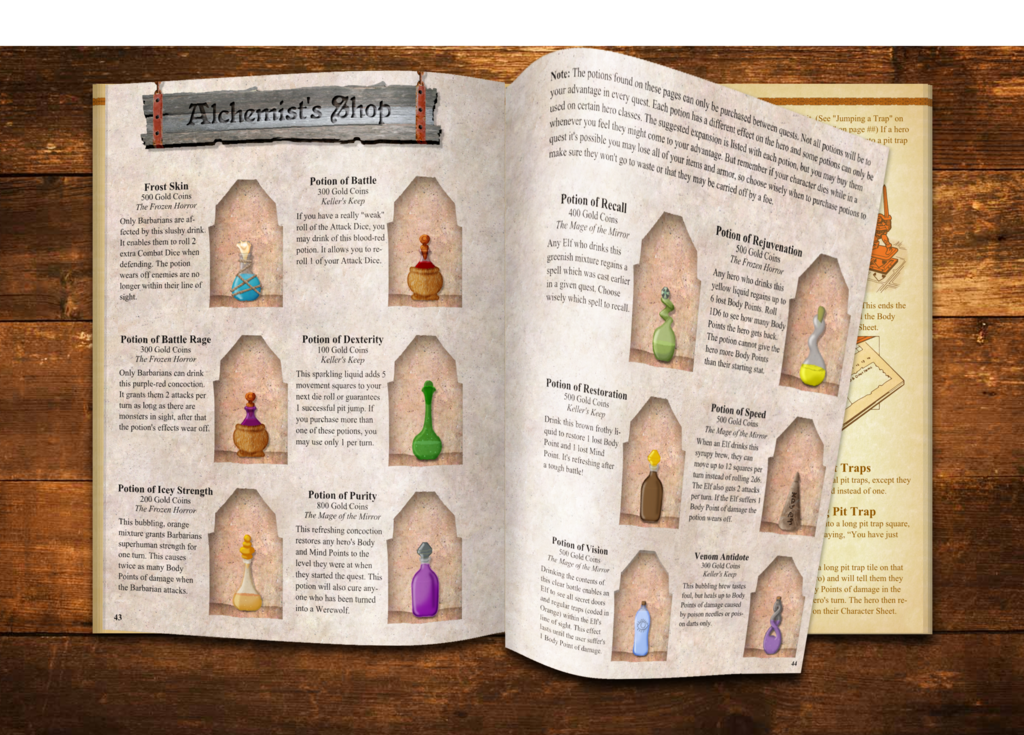 So, if you are interested in helping me out please make mention here and send me a PM. I'd like to finish this project up before fall hits. If I can't find anyone here, I may just finish up drawing these items on my own. But wouldn't mind adding extra skilled members of the forum to the project.
Here are a few glimpses into what I'm doing with the book, remember these are all low resolution WIP images: