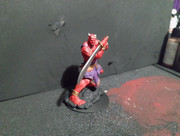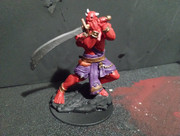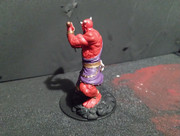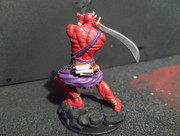 So I picked up this guy for 3 bucks at my local wargaming shop, he's from a WOTC Pathfinder line. He's supposed to be an Efreet, he's about three or four times the size of a man-sized miniature. When I saw him, he instantly remimded me of two things: Mehrunes Dragon from the Elder Scrolls, particularly his appearance in the Elder Scrolls IV: Oblivion...
And the second was the obvious inspiration for Dagon's appearance - particularly lin that game - the good old 1e AD&D Dungeon Master's Guide.
1e art is hit or miss for me. When it's good it's really good, and when it's par for the course (in my honest opinion) it's the Napoleon Dynamite level art on the 1e Monster Manual. But the cover of the DMG, while still a little amateurish, holds a special soft spot in my heart. I love that image. The city on the back cover is pretty great, too.
So, I instantly did my best to give an homage to one of my favorite bad guys, and one of my favorite bits of old school art.
For this being only my third project, I think I'm getting the hang of this. It looks pretty alright to me. Still a bit amateurish, but I not only really enjoyed this but I'm getting faster at it. This only took a weekend.
Deep in the Southern Temple of Fire, the stand stone walls reflect light in between the dancing shadows cast by the 10,000 year old holy fires burning in the sacred brasiers, now corrupted and warped to a bright green by the forces of Chaos. Standing between them stands the Demon Lord of the stands, wearing royal purple raiment and wielding his wicked curved sword in a defensive position, his bright red skin and glowing orange eyes telling the tale of his nature.
"Step forward, qafiri, and draw your weapons. You lives will stain the Skull Throne with honor."