Goblin-King wrote:For starters they are being sold as "Wargs" not "wolves".
Nope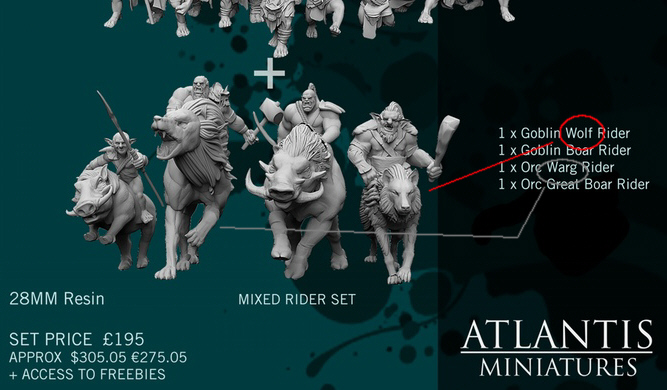 Well, as for
wargs
, these were invented by Tolkien, who described them as particulary nasty wolfes. One time in
The Hobbit
, Gandalf(?) even identifies them as wargs (not wolves) by the fact that their dead bodies had vanished over night. Seems to imply that they can't be told apard by physical features.
Personally, though I generally like the LotR films better than the books, I didn't like Jackson's mutant hyena wargs at all.
But all this aside, I'm definitely talking
wolves
here. Not wargs.
Now let's go for

wolves
:
knightkrawler wrote:It's fantasy, and even regular animals adapted from this string of reality need to fit into styles of companies selling them.
That being said, I don't want regular looking wolves as mounts for any kind of race.
Our wolves stand for pride and sovereignty if you ask me.
It's just plain weird to see a wolf mounted by a goblin, the more realistic it looks the weirder.
Well, but these Atlantis Miniatures are not about a cartoonish or otherwise "special" corporate style. They're all "let's do them as decent and natural as possible". Even the Greenskins look like something that could actually
exist
in the real world, if there would be chances left to discover a hithero unknown humanoid species. Well, not really, but much more so than the ones of other companies.
Let's take an animal with no counterpart in the real world, a pure fantasy crature like a dragon. "Realism" in this case clearly refers to the style of the art, not to any similarity to the "real thing".
You can depict a dragon in a "realistic" way (art-wise), or in a cartoonish way (among others).
Look at these two takes on dragons, both of them by disney:

Now, which one is more convincing? Wich one is more impressive?
Which one would you like to have as a miniature (to really use it, not just as a novelity)?
Got what I mean?
Just have a look at the hounds: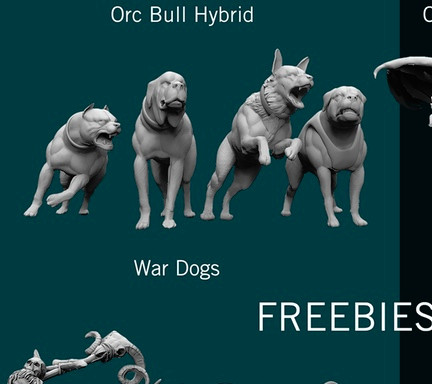 These are naturalistic in style. They look convincing. They are in fact a bit "enhanced" in some details for a more dramatic buid and stance. But
And obviousely, this is what the sculptors intended. Are they any less fitting for a fantasy world?
So, what about the wolves?