A solo quest pack for the Warrior Priest.
| | | | | |
| --- | --- | --- | --- | --- |
| Movement | Attack Dice | Defense Dice | Body Points | Mind Points |
| 2d6 | 2 | 2 | 5 | 5 |
Quests
New Rules
Prayers

Before play begins the player should take the three new decks of Prayer cards, Retribution, Salvation and Invigoration. Each deck should be shuffled and then placed face-down within reach.

Once per turn the Warrior Priest may pray to the Gods. The player should take the top card from one of the the prayer decks and place it face-down in front of them. They should then role one combat die. If a white shield is rolled the player may turn over and read the card. The effects of this card last until the beginning of the Warrior Priest's next turn, when it is discarded. If a white shield is not rolled the card should be immediately discarded without being read. The Warrior Priest may never draw from the same Prayer Deck on two consecutive turns.

Blessed Heroes

Some of the Prayer cards refer to 'Blessed Heroes'. When one of these cards is read all Heroes may roll one combat die. Any Hero that rolls a white shield is blessed by the Warrior Priest's prayer and the effects of the Prayer card also apply to them. The effects of these cards always apply to the Warrior Priest and the player does not need to roll again.

Men-at-Arms

The Warrior Priest commands such respect that he will have no problem finding a band of followers to aid him in his great feats of heroism.

Men that believe in the Warrior Priests faith can be found in towns and cities all around the country and are willing to follow a Warrior Priest and fight for him to the death.

For this quest pack only the Warrior Priest may be accompanied by two such men on each of his adventures. At the beginning of each quest the player should draw two random Men-at-Arms cards. These will be his companions on this quest. They have two Body points and may roll as 'Blessed Heroes' whenever a Prayer card is read that affects 'Blessed Heroes'.
New Items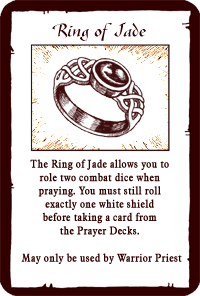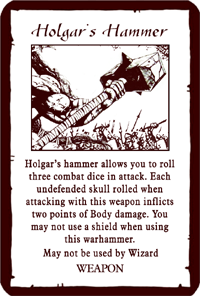 Monsters
NOTE: These quest have been written and playtested using the NA monster stats for BP