Talisman 2nd Edition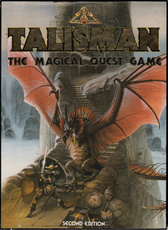 Said by many to be their favourite edition of the game, Talisman 2nd edition really hits the spot with me also. Being that it is all card you can print the whole game out and enjoy Talisman goodness for the price of printing! I have acquired alot of different downloads for Talisman 2nd Edition and am still trying to organise them and see what is what. I will upload more than one copy of the game as they will be from different sources and one may be more suitable than another...
First up is Tal-Is-Poor - Full Talisman set download including all Official Expansions featuring Polish art and put together by Djeryv Tar
https://firedrop.com/549e4c648c6e6b1e
Talisman 2nd Edition (Tal-Is-Poor(PDF)
(31.92mb)
Next up Talisman Journey - A portable version of Talisman for people on the move by Djeryv Tar
https://firedrop.com/38be98dfc8ddcd1c
Now for this one: This is a PDF which I found online. It is Official Artwork version (Gary Chalk
) With all expansion except City and Dragons
https://firedrop.com/22e80730322b17c0
The Dragons expansion for 2nd edition. Someone recreated it and it looks spot on!
Copies were going for something like £400 on ebay. Print your own!!
https://firedrop.com/661c75ba37ccaf02
MORE DOWNLOADS FOR THIS EDITION TO COME....
Dragons for 2nd edition will be uploaded, and all White Dwarf supplements. Then some great homebrew expansions...