Notes about this work in progress:
In 1994 Dragão Brasil No.8 published a 3 quest campaign for Heroquest titled "
Ataque ao Mago Dorminhoco
" written by Roberto De Moraes.
A year ago I translated these quests in Italian, and now I am translating them in English too. Some errors may occur, so anyone is welcome to read and contribute to improve my translation.
The Brasilian version of Heroquest is based on the Game-System so you can also find Magic-Scrolls during the quests and Zargon is mentioned instead of Morcar.
I translated the title as Attack to the Sleep Wizard, hope it is correct. It is referred to a Wizard who can make people sleeping, so it is the Wizard of the Sleep. Let me know if you have a better way to translate it.
Attack to the Sleep Wizard:
To complete each quest the heroes must reach the goal and come back to the starting point, represented by the stairs tile.
Read the following text to the players:
After travelling for several weeks, you're finally back to the Empire. Soon you realize there is something wrong. The streets are desert, where are eveyone?
What happened to the merchants, farmers, children and minstrels? You decided to go to the old tavern, searching for news.
Once arrived, you are surrounded by silence, but the place is not empty.
The usual frequenters of the tavern are there, some are bent over tables while others are laying on the floor. Are they dead?
As you examinate the bodies you see that none of them is dead but seems like they've fallen in a deep sleep and trying to awake someone doesn't work at all.
While you're trying to awake your friends something strange happens: the fire in the fireplace suddenly turn on and a figure take form beetween the flames.
His face is well known to you, he is Mentor taht speaks to you:
"My friends, the Empire is victim of a terrible sortilege. Everyone is deep sleeping.
An awful black cloud, like a tempest, covered the whole region. And once it disappeared everyone fallen asleep.
Only the ones that, as you, were away in that moment have been spared.
This is for sure the work of Lengrati, a powerful wizard who serves Zargon.
It is necessary to break the spell and this is possible only by the help of the legenday Magic Horn.
It is hidden in Lengrati's underground lair, in an old ruin, not so much far from here.
As soon as teh Horn will be played, everyone will awake.
Now go with no hesitation, my friends."

Quest 1: The Rescue of the Crown
"Your first task is to regain the King's crown, stolen by Lengrati's Goblin while everyone was sleeping."
NOTES:
A. The chest n this room contains 30 gold coins.
B. The unlucky heroes who will open this chest will be attacked by 2 wandering monmsters instead of one.
C. If a hero search for treasures here, he will find the King's crown, hidden inside the tomb.
D. This is a very old and damaged fireplace: when a hero will search for treasures in this room, a stone will fall on his head causing 2 BP of damage.
Wandering Monster: Goblin
Quest 2: The Sleep-Wizard
"It is now necessary to find Lengrati, the sorcerer, and be sure he will not be able to do cast a sortilege anymore."
NOTES:
A. On the Wizard table there are two magic scrolls: Genie and Swift Wind.
B. All this weapons are in a bad state except one that is a magic sword: it is teh same of a broadsword but is able to cast a Tempest spell, once per quest, even if its bearer is not a wizard or an elf.
C. On the alchemist bench there is a bottle of Heroic Brew.
D. The hero who will search treasures here will find 50 gold coins hiddend in the cupboard.
E. The hero who will search treasures in this room will be attacked by a wandering monster.
F. This is Lengrati's room, the "Sleep-Wizard". Lengrati is a shapeshifter: he can transform himself in an exact copy of anyone hero, with the same stats of attack and defence, body and mind points, weapons, armour and all his other equipment.
Use the Chaos Warlock figure to represent him but anyway the heroes will not be confused and not able to discern Lengrati from their copied companion. Each time someone will attack Lengrati he must roll a combat dice: if he rolls a black shield he will wrongly attack his companion (that will need to defende) instead of Lengrati.
Obviously, the cloned hero will not need to roll the dice to pass the test.
Wandering Monster: Gargoyle
Quest 3: The Magic Horn
"Lengrati has been defeated. It only remain to discover teh Magic Horn, that will awake all the Reign, freeing it from the evil sleep"
NOTES:
A. In this room over the alchemist bench lies the Magic Horn.
B. This weapons are rusted and unuseful.
C. On the shelf seems to be only old scrolls, but when a hero search for treasures he will find a small gem that is worth 60 gold coins.
D. The cupboard in this room is a trap: if a hero searches for treasures here, a magic explosion will cause a 2 BP damage to all the heroes in the room.
E. Each chest in this room contains 50 gold coins.
F. On the wizard table there is a Healing Potion.
Wandering Monster: Gargoyle
------------------------------------------------------------------------------------------
EDIT - DOWNLOAD LINKS:
Questbook: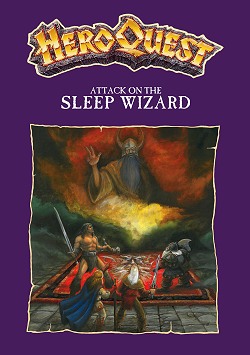 Artifacts: